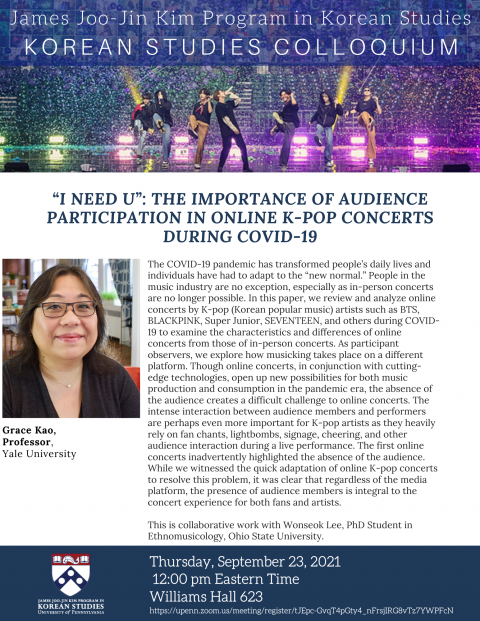 Korean Studies Colloquium
Thursday, September 23, 2021 - 12:00pm
Williams Hall 623 
Optional Zoom registration HERE
This is a hybrid style meeting with in-person attendees and remote meeting participants. The speaker will present on Zoom.
The COVID-19 pandemic has transformed people's daily lives and individuals have had to adapt to the "new normal." People in the music industry are no exception, especially as in-person concerts are no longer possible. In this paper, we review and analyze online concerts by K-pop (Korean popular music) artists such as BTS, BLACKPINK, Super Junior, SEVENTEEN, and others during COVID-19 to examine the characteristics and differences of online concerts from those of in-person concerts. As participant observers, we explore how musicking takes place on a different platform. Though online concerts, in conjunction with cutting-edge technologies, open up new possibilities for both music production and consumption in the pandemic era, the absence of the audience creates a difficult challenge to online concerts. The intense interaction between audience members and performers are perhaps even more important for K-pop artists as they heavily rely on fan chants, lightbombs, signage, cheering, and other audience interaction during a live performance. The first online concerts inadvertently highlighted the absence of the audience. While we witnessed the quick adaptation of online K-pop concerts to resolve this problem, it was clear that regardless of the media platform, the presence of audience members is integral to the concert experience for both fans and artists. This is collaborative work with Wonseok Lee, PhD Student in Ethnomusicology, Ohio State University. 
Grace Kao is IBM Professor of Sociology and Professor of Ethnicity, Race, and Migration (Secondary appointment, by courtesy) at Yale University. She is also Faculty Director of Education Studies. She is also Director of the Center for Empirical Research on Stratification and Inequality (CERSI). She is past chair of the Sociology Department. She is Past Vice-President of the American Sociological Association. She was also a recipient of the Award for Contribution to the Field from the ASA Section on Asia and Asian America. She studies race, ethnicity, and immigration as they collectively relate to education and relationships among young people. She also has interests in the effects of migration on young people and has written papers on these topics in Mexico, China, and Spain. Her most recent book is on interracial friendships and romantic relationships among youth. Currently, she is one of a team of researchers (led by Hyunjoon Park) that is examining the transition to adulthood among Korean Millennials. Most recently, she has developed interests in K-Pop. She has published two books and more than 80 articles in journals in Sociology, Education, Psychology, Demography, and Asian American Studies. Her work has been cited over 12,500 times.