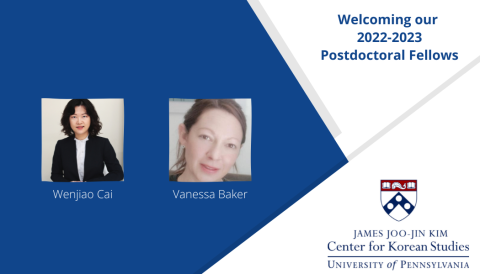 The Kim Center for Korean Studies welcomes two new Moon Family Postdoctoral Fellows for the 2022-2023 academic year: Vanessa Baker and Wenjiao Cai. 
Wenjiao Cai is completing her PhD in History and East Asian Languages (HEAL) at Harvard University. She is a historian of Korea whose research and teaching interests lie at the nexus of environmental history, the history of science and technology, and borderland studies. While at Penn, Wenjiao will develop her first book manuscript, tentatively entitled Coping with the Cold: Nature and State in Chosŏn Korea's Northern Borderlands, a climate history of Chosŏn frontier expansion in P'yŏngan and Hamgyŏng provinces (in present-day North Korea). It examines the ways that the kingdom's bureaucrats understood and responded to the frigid climate in northern Korea and how human-climate interactions shaped governance, economy, society, and the environment on the frontier. Coping with the Cold  will offer a new ecological perspective on state-building in early modern Korea and bring Chosŏn climate knowledge production and environmental governance into discussions of world history. Wenjiao's research has been supported by the Social Science Research Council, Korea Foundation, Kyujanggak Institute, and various research centers at Harvard University.
_______________________________________________________________

Vanessa Baker works in the field of the environmental humanities and is interested in what literature reveals about the (un)sustainability of local ecologies during a period of intensive empire-building in East Asia. Her doctoral dissertation, "Entangled Ecologies of the Everyday: Gender, Labor, and Nature in Rural Proletarian Literature of Korea and Japan," traces the co-evolution of laboring bodies with the land in the process of mineral extraction. This project places a critical focus on stories about the rural regions of the Korean Peninsula and the Japanese archipelago where the material axis of empire was produced. The group of texts she refers to as "rural proletarian literature" locates the interrelations among gender, labor, and the material environment at the heart of the narrative; these entanglements generate a kinetic energy that propels the narrative forward. In the textual analysis, she surveys the wastelands generated in colonial-capital mining ventures, but also highlights the creative collaborations that cultivate spaces for the futurity of life. Her research interests include environmental history, feminist materialism, indigenous studies, political economy, new materialisms, and sound studies. Vanessa received her B.A. in East Asian Studies from Bard College, her M.A. in Modern Japanese Literature from Columbia University, and her Ph.D. in East Asian Studies with a Feminist Emphasis at the University of California, Irvine.