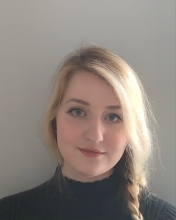 2020-2021 Undergraduate Fellow
Major: Political Science
 
Year: 2023
 
Elena is a current sophomore majoring in Political Science and minoring in Korean Studies. Her fascination with Korean language and culture stemmed from a somewhat random event two years ago, when she selected it out of eight other languages offered when applying to the National Security Language Initiative for Youth (NSLI-Y), a U.S. Department of State-funded scholarship aimed at encouraging American high school students to study languages critical to national security. After living in Jeonju with a host family and studying at Shinheung High School, she fell in love with Korean language and culture. She has continued to study Korean formally through the James Joo-Jin Kim Department of Korean Studies at Penn and secured a board position with Penn for Liberty in North Korea (LiNK,) the Penn chapter of an international non-profit dedicated to helping North Korean refugees safely relocate to freedom. Now, in her sophomore year, Elena is thrilled to become even more involved with Korean Studies with the Kim Fellowship.