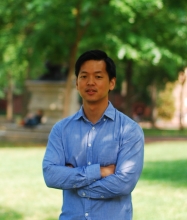 2017–2018 Moon Family Postdoctoral Fellow in Korean Studies
Nuri Kim studied modern Korean history at the Department of East Asian Languages and Civilizations, Harvard University. His doctoral dissertation, "History, Myth and the Making of an Ancient Religion in Early Twentieth-Century Korea," examines the emergence of religious movements and their endeavors to write Korean history at the turn of the century. Offering insight into the intersection between myth, religion, and historiography, this study also presents a genealogy of "fringe history" which has come to pose significant challenges to Korean academia. Prior to completing his Ph.D., Nuri was a visiting fellow at Seoul National University and received degrees from the University of Chicago as well as Sogang University.    
Nuri's research emphasizes the transnational influences and interactions that have shaped the cultural, intellectual, and religious history of Korea. For his next project, he will investigate the connections between pre-1945 Germany and völkisch-inspired endeavors in Korea.