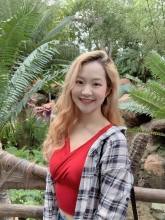 2020-2021 Undergraduate Fellow
Major: Business
 
Year: 2023
 
Sarah is a sophomore who hopes to have a career in law in Korea. However, having attended a foreign language high school and being an international student, she felt that she wouldn't have enough understanding of the country's history and culture to fit into the country's business culture. In her freshman spring, she took a class in Korean Literature, which, with the professor's detailed explanation of the readings and Korean history, quickly became her favorite class and led her to apply to the program. Through the fellowship, Sarah hopes to learn about Korea in more detail and help promote the program to others who may be interested.
 
Aside from being a Kim Program Undergraduate Fellow, Sarah is in K-Beats, Penn's K-pop dance group, on the board of Wharton Korea Undergraduate Business Society, a member of Wharton Asia Exchange, and a Silverman Fellow, through which she volunteers twice a week at a West Philly elementary school.